Medigap Insurance Overview
Created as health insurance policies with standardized benefits, Medigap insurance works with Original Medicare to help cover out-of-pocket costs. These plans won't work with other policies such as Medicare Advantage or other healthcare plans you may have. Medigap plans are sold through private insurance companies and may cover outstanding deductibles, copayments, and coinsurance that is leftover after your other benefits have been used.
Currently, there are a total of 10 different Medigap policies to choose from, ranging from A through N and include: A, B, C, D, F, G, K, L, M, and N. While premiums can vary from agency to agency, the benefits you receive will be the same regardless of where you buy the policy from. Recently, as of 2020, there have been changes to several of the plans and several that are expected within the coming year. It is always a good idea to speak with a licensed agent before purchasing a plan to understand your options and how they benefit you.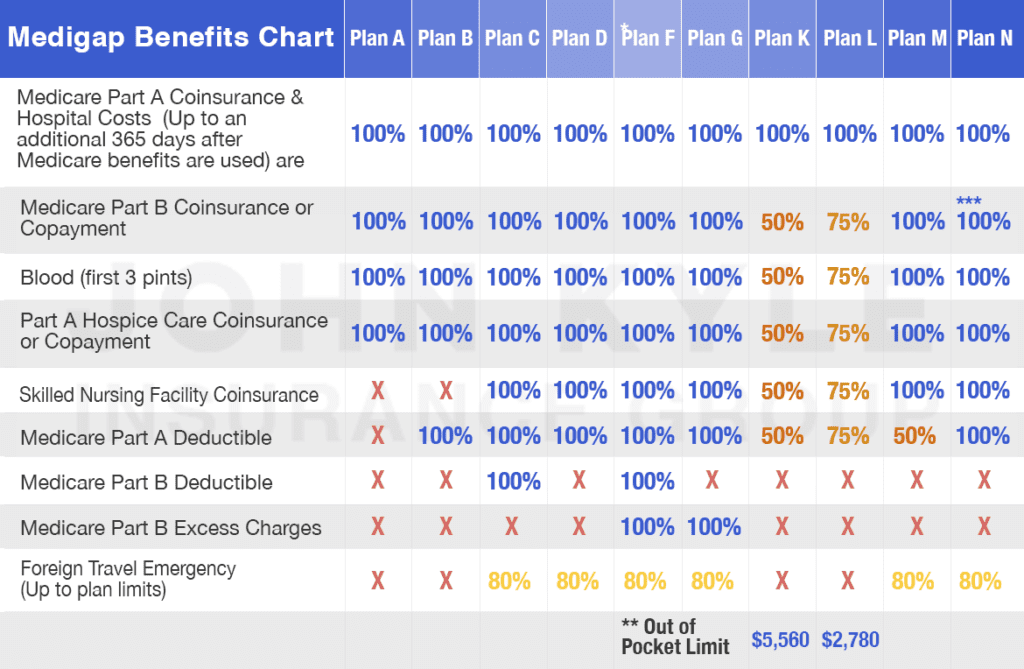 Medigap Insurance Coverage Benefits
For many people, having just Original Medicare seems like enough coverage. Unfortunately, more often than not, having only Medicare Part A and Part B can mean paying thousands of dollars each year out-of-pocket. One way to make your plan more cost-effective is by purchasing a Medigap policy to pair with your current coverage. It will not only give you a little peace of mind that you can afford the care you need but makes your overall plan more effective. Below are some of the benefits that come with having Medigap insurance:
With guaranteed coverage for life, your Medigap plan can't be canceled as long as you pay your premiums and follow the policy's guidelines.
There is a flexible range of plans available to help you customize your healthcare benefits package.
You are NOT restricted to a certain network and can use any doctors or care facilities you want.
Referrals for a specialist aren't needed.
Combining a Medigap plan and Medicare Part D with your current Original Medicare will create a more comprehensive coverage.
Streamline and predictable costs help you plan for the future.
We are not connected with or endorsed by the United States government or the federal Medicare program.
Reach Out To John Kyle Insurance Today!
Finding the right health insurance doesn't have to be a chore. With the help of our experts, we can help you select the right policy to help you achieve your future goals. To schedule a time to talk, call (440) 230-1223 OR (239) 920-5220.